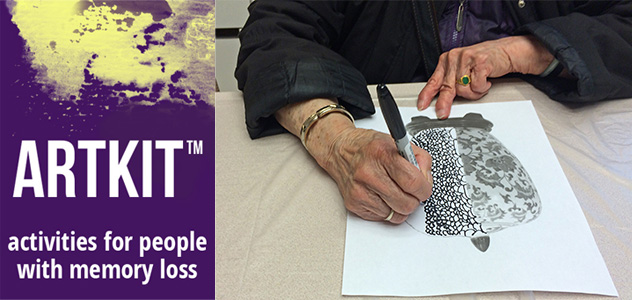 The ARTKIT™ by Lola Fraknoi is a series of two and three dimensional activities, designed to bring out creativity in people with memory loss, and to give their caregivers some deserved respite.
Please click here to purchase the ARTKIT™ and learn more.
Are you satisfied with the level
of engagement in your community?
If not, let ArtTime energize your organization with our award winning programs, and stand out among your competitors!
ART TIME PROGRAMS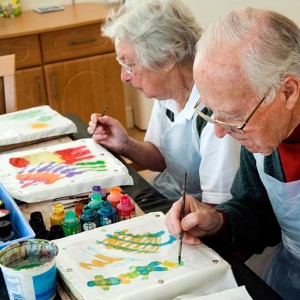 ArtTime is a consulting service that brings innovative programs to places where seniors live or gather, including senior centers, nursing homes, assisted living settings, Alzheimer's facilities, and senior housing communities.
Our work is based on the latest brain research, and is focused on the positive effects of creativity and community on the aging brain. We benefit from the experience and creativity of our founder, Lola Fraknoi, a nationally recognized expert on designing and developing programs for older adults for 25 years.
Our team can offer you a wide variety of programs that range from fine arts, crafts, tai chi, yoga, movement, cultural celebrations, music, lectures, etc.
Our methods have helped sleepy senior communities become stronger and more energized, with a higher participation in programs than ever before. Each type of setting has its own strengths and challenges, but we can customize our basic approach to local needs and help your staff to improve the quality of life for everyone.
Our tested approach reduces the pressure on your staff and trains them to implement programs that engage residents, families, staff, and your local community. They also tend to decrease difficult behavior among residents who demand staff attention.
The secret to ArtTime's success is:
Researching each community we serve thoroughly to offer a customized
approach to creative aging that fits with your needs;
Getting the best instructors, performers, and artists (each with experience
in working with older adults) to be part of the team;
Giving families and the neighboring community the chance to participate in art workshops, dance performances, and musical programs that can span the generations;
Offering a wide variety of programs that appeal to people from different backgrounds, interests, and ages — from music to poetry, from art to wellness, from dance to computers, and much more.
Let us re-imagine a plan that's right for your center!